Dear Friends,
We need to stay connected and what better way than while we get healthy and fit!  The mental aspect of socialization is paramount to our health just as much as exercise which boosts our immune system (and mood). 

Join our growing community for FREE LIVE VIRTUAL CLASSES from my living room to yours! 

Just email me and I will send you an invitation to join us!

Come for all or part of the workout, but just do it!!!
It's about your Health and that's why I'm offering this FREE to you!!!
Also, I decided to offer all of my workout videos online thru electronic links!  If you previously purchased one of my Raw Truth Recharge DVD's, this is FREE to you, for others there is a nominal charge of $10 to gain access. Email me to get connected and start working out at home today!  You know you need it! See the schedule below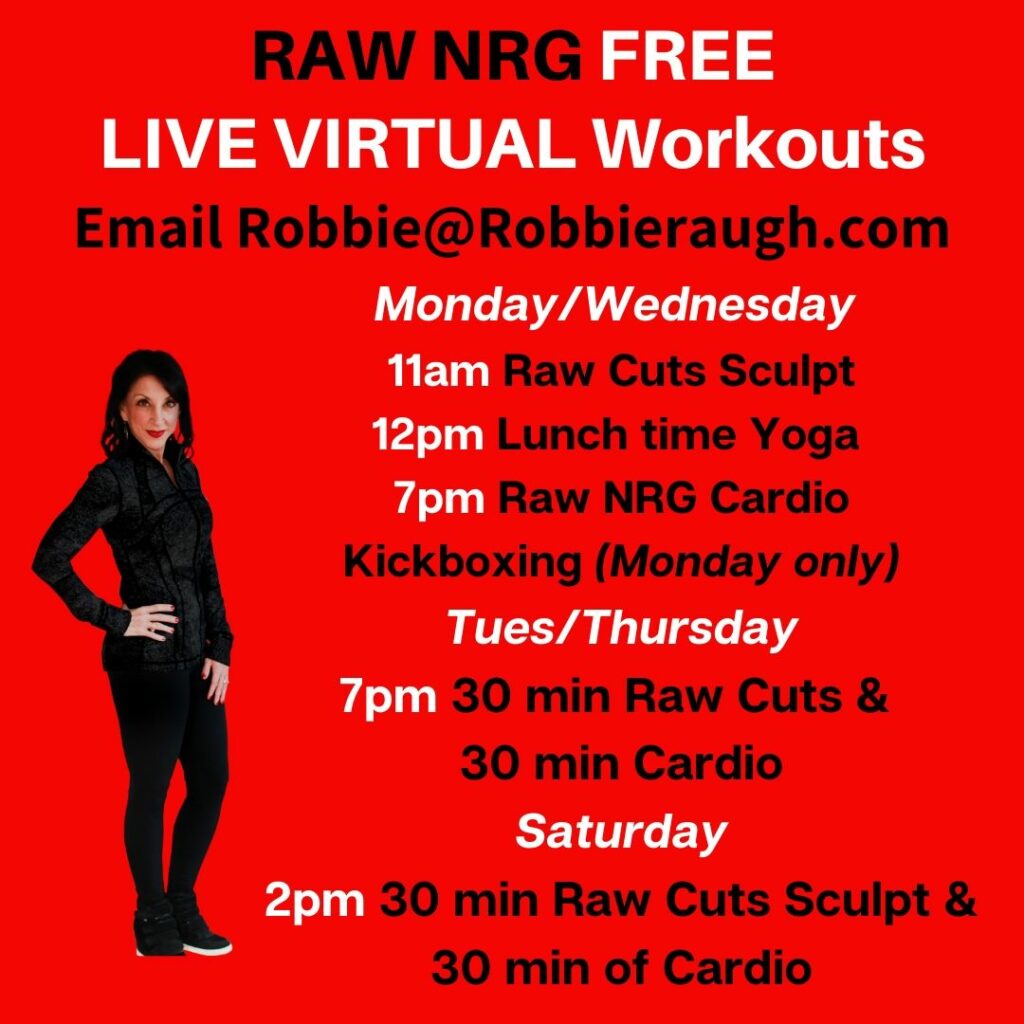 WE ARE HERE FOR YOUR HEALTH AND NUTRITIONAL NEEDS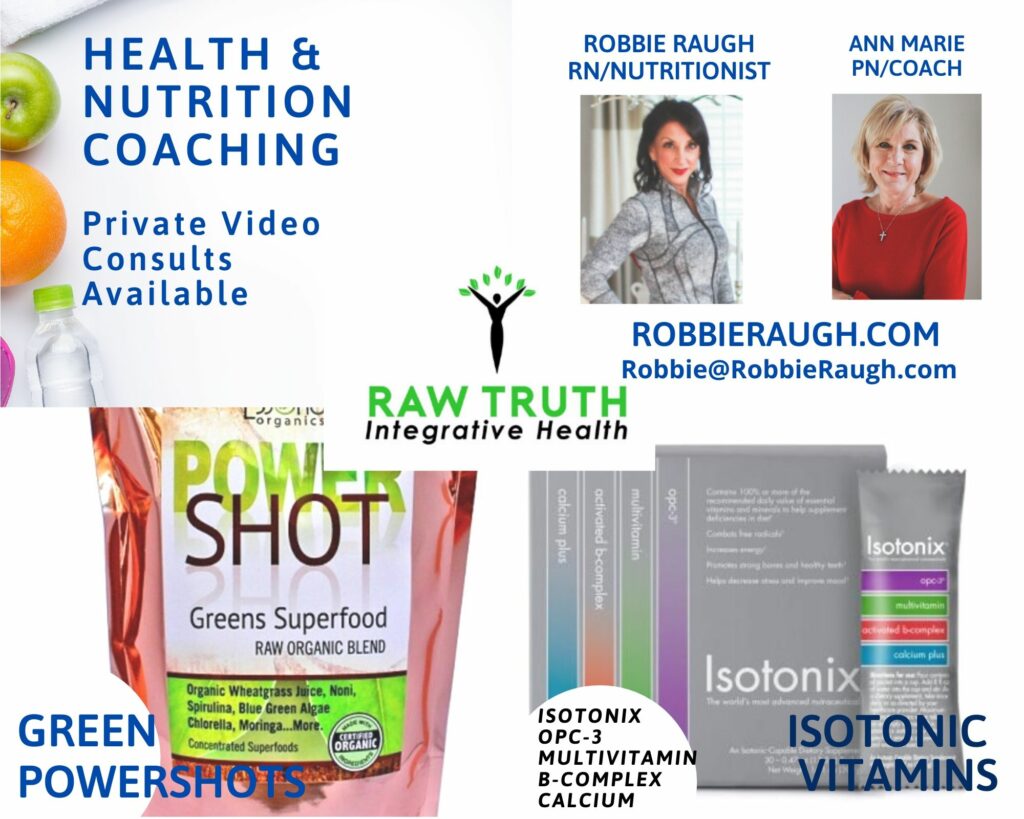 Friends, do what Ann Marie and I do to protect and care for our daily health and nutritional needs.  We all need this especially today!

We start our day off with a Power Shot Greens Superfood Smoothie – it assists with mineral replenishment and it provides optimal support for your body's system.  It's bio-available, easily absorbed and packed full of nature's most nourishing, cleansing and potent superfoods and alkalizing greens.   Plus the taste is amazing!

We also take our daily Isotonic Daily Essential Supplementation packet which includes the best Multivitamin, OPC-3 – the best and most powerful Antioxidant, Calcium and Activated B-Complex.  We love our Isotonix supplements because they provide maximum absorption in our bodies and gives us amazing energy!

You can do the same!  Supplements or Green Powershots are available thru our website RobbieRaugh.com or email me directly and we will arrange for pickup.
Raw Truth Health is also here if you wish to have Nutritional Coaching.  We provide private virtual consults.  A safe way to stay and get healthy. Visit our website for more Health and support information. 
One of our favorite recipe books along with "The Raw Truth Recharge" is "Against All Grain". And here is one of our fav recipes!  
 
Almond Flour Zucchini Bread
AUTHOR: Danielle Walker – AgainstAllGrain.com

SERVES: 2 mini loaves
INGREDIENTS:
1-1/2 cup blanched almond flour
2 teaspoons cinnamon
1 teaspoon baking soda
½ teaspoon salt
½ teaspoon nutmeg
3 eggs, beaten
¼ cup honey
1 ripe banana
1 cup shredded, unpeeled zucchini
INSTRUCTIONS:
Preheat oven to 350 degrees
Combine the dry ingredients in a small bowl.
Place the wet ingredients in the bowl of a stand mixer, then beat on medium for 1-2 minutes until frothy and fully combined. Add the zucchini and beat again just enough to incorporate.
Slowly add the dry ingredients with the mixer running, until all of the flour mixture has been incorporated.
Spoon the batter into 2 mini loaf pans. You can also use this batter to make muffins. Bake for 30-35 minutes until the middle is set and a toothpick comes out clean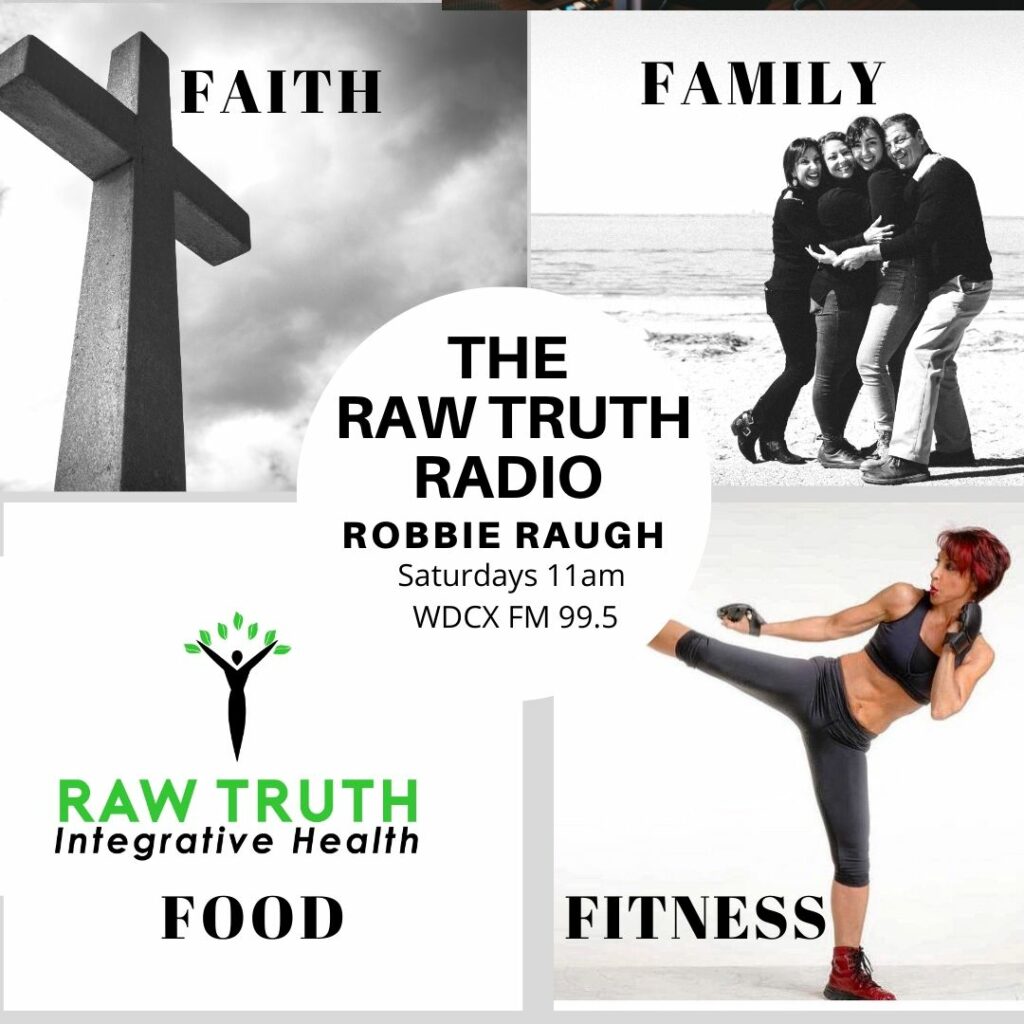 Also don't forget to listen to The Raw Truth show every Saturday on WDCX Radio 99.5FM or 970am from 11am-1pm.  If you miss it, you can listen to past shows anytime. 

Also catch her regular Health and Fitness Segments on WKBW TV AM Buffalo!  This week Robbie presented on Tips for Reducing Stress.   Use the Google app to stay connected.
Stay Safe and Have a Blessed day!
Robbie & Ann Marie

So whether you eat or drink or whatever you do, do it all for the glory of God.
1 Corinthians 10:31