Dear Friends,
 
We pray that you are all staying well in this time of uncertainty and COVID-19.  We are praying for our world.  Try to focus on Faith over Fear at this difficult time.  Stay in God's Word, His Word is true.
 
Please be sure to take precautions, including managing your stress to keep your immune system up (see below).
 
At Raw Truth Integrative Health, we are committed to helping you stay healthy and well with affordable prices.  A huge part of that of course is your diet.  We really are what we eat, and you can either prevent disease and illness or cause disease and illness by what you eat as it all affects our immune system directly.
 
You can attend our FREE online Health Seminar on Facebook Live this week, available on Tuesday 3/24 noon & Wednesday 3/25 6:30pm. To attend – go to The Raw Truth Health Facebook page.  Don't forget to like our page!

We are offering Online teleconferencing classes for you!  We are offering both our Procoach, online world class, world wide mobile coaching program at a huge price savings, as well as our 4 week Healthy Eating classes available thru teleconferencing.  (not a facebook group) at a deal you cannot pass up – only $99 (Save $30).  Everything is online and can be done in the privacy of your home as social distancing is still in place.  Stay home and save lives. We also have some extra savings listed below to keep you on track.  Check them out and sign up below!
 
To Recap – Get Healthy and Save Big:
 
1 ) Free online Seminar 3/24 noon & 3/25 6:30pm
2 ) One online 4 Week teleconferencing Healthy Eating class for only $99.00 if you register by Friday 3/27. (Savings of $30)
3) Procoach world class, world wide online mobile coaching program for only $49.00 (Savings of $50) 
4 ) Package – Procoach for 1 month AND 4 week Healthy Eating class for $148.00 if registered by 3/27.  if registered by 3/27.  (Savings of $80) 
Check out our Procoach Video HERE
 
The Raw Truth Recharge Exercise video workouts are now FREE electronically for those who have previously purchased them.  Just message or email Robbie to get them or be added to the FB closed group.  If you haven't previously purchased these workouts you can purchase them electronically for $10.00 each
The 4 workouts include:
Interval Training (Kickboxing and Raw Cuts)
Raw NRG Kickboxing 
Raw Cuts Sculpt
Raw Truth Yoga
Payment for classes can be done thru PayPal and Venmo if you wish to use that method. Just email Robbie@RobbieRaugh.com  to do this!!!
Offering FREE Online Health Seminars
March 24 Noon & 25th 6:30pm

For your safety, we now have ONLINE TELECONFERENCING
4 Week Healthy Eating Classes March 31 & April 1 

***If you sign up by March 27th, you get a SPECIAL $99 DEAL .  Go To RobbieRaugh.com today to sign up!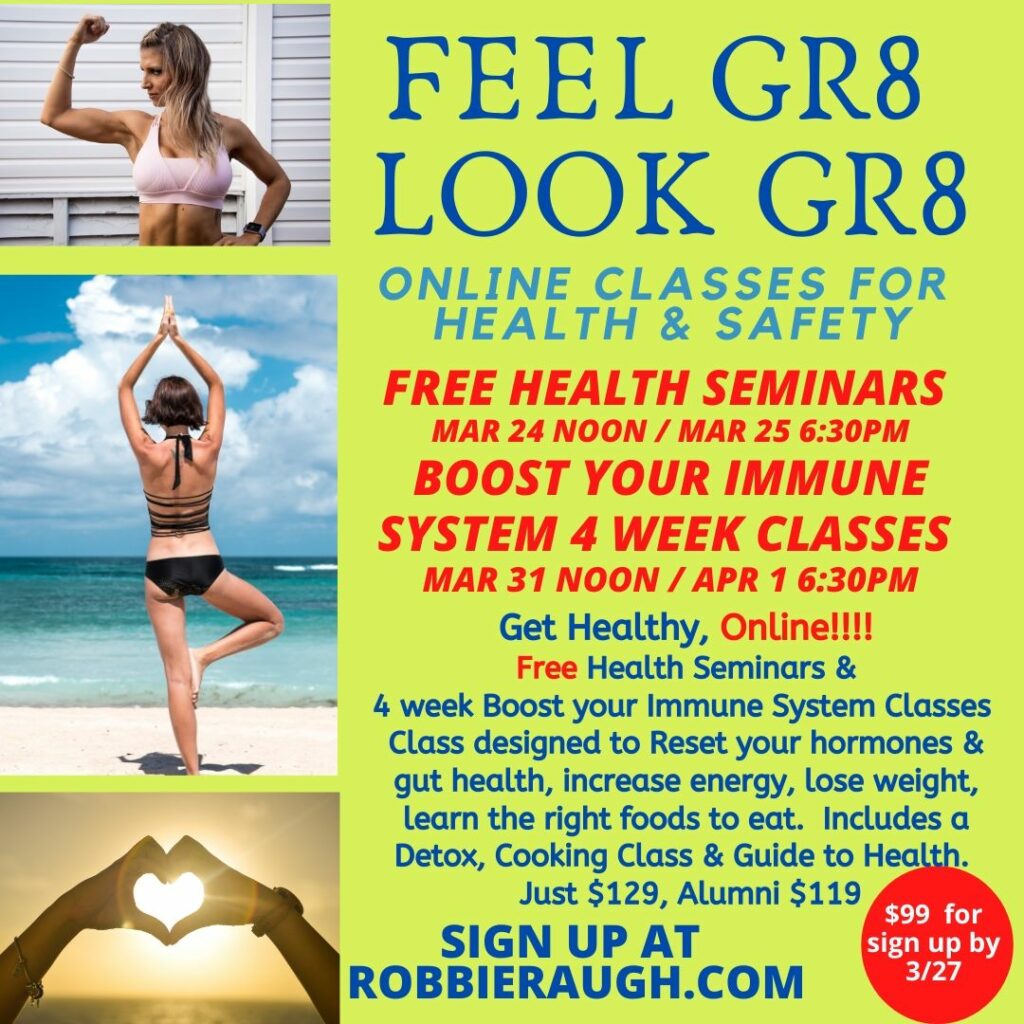 Remember, you can use your Wellness Card!  Sign up at RobbieRaugh.com/nutrition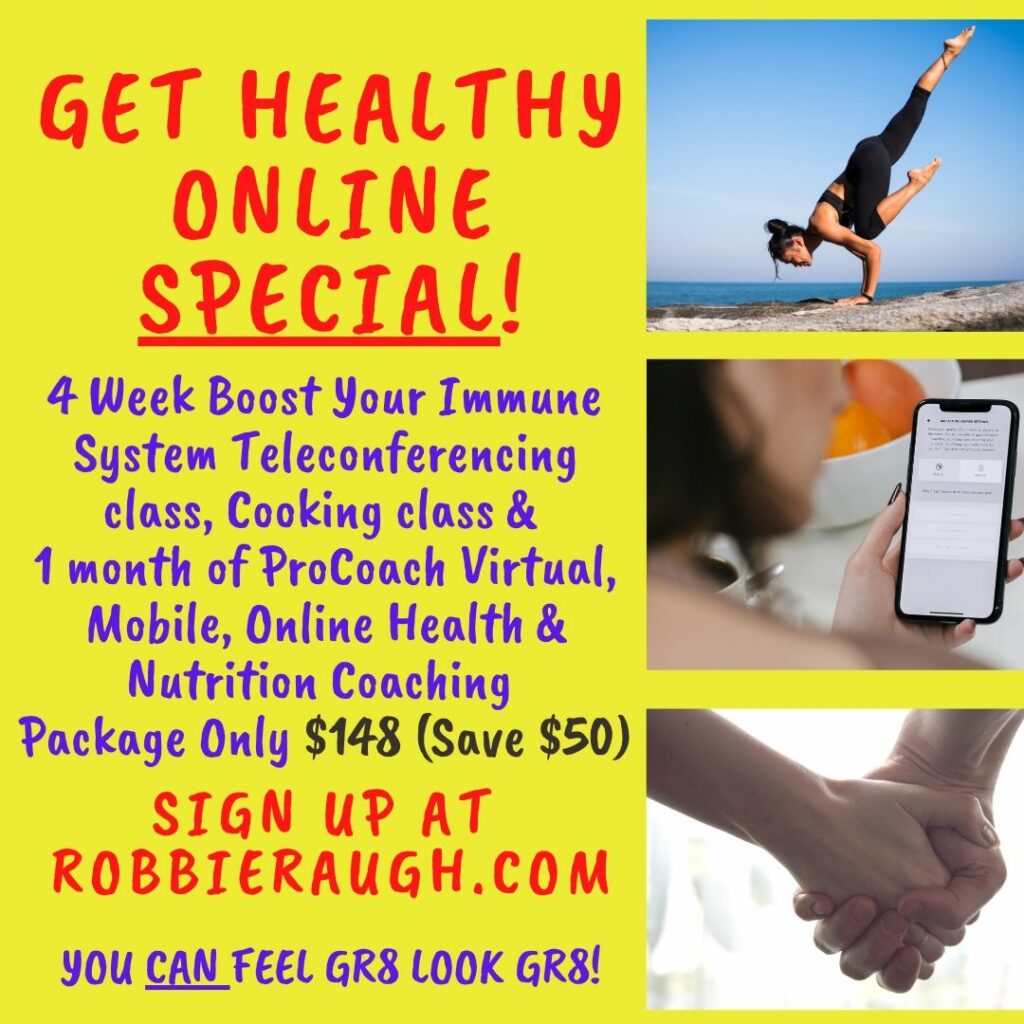 Check out Robbie's segment on Immune Boosting Foods on AM Buffalo TV
Tips to Boost Your Immune System
Tip #1 Wash Your Hands
Keeping yourself safe from illness-causing germs and viruses is in your hands. That's why it's so important to keep them clean. Wash your hands often, for at least 20 seconds at a time. When rubbing soap on your hands, be sure to lather the backs of your hands, between the fingers, and under your nails.
Tip #2 Stay Hydrated
Drink plenty of water throughout the day. Start your day off with a glass of water. Try and drink water which is filtered, drink out of a glass or stainless steel bottle.
Tip #3 Exercise
Exercise will increase and boost your immune system. Cardiovascular exercise will increase your lymphatic circulation system throughout the body and will help boost your immune system.
Tip #4 Eat Nutrient Dense Foods
Nutrient-dense foods are real and unprocessed foods. Examples would be leafy green vegetables (like kale, collard greens, spinach, bok choy, cabbage and romaine lettuce), broccoli, cauliflower and other cruciferous veggies like cabbage or brussel sprouts, artichokes, carrots and parsnips, asparagus, strawberries, blueberries, raspberries and other dark berries in addition to garlic, mushrooms and ginger.

Tip #5 Eat Fermented Foods
There are advantages to including fermented foods. The bacteria in fermented foods produce more vitamins and nutrients as they digest the starches and sugars. It helps restore proper bacteria balance in the intestines. it improves heart health. It improves the body's immune system and it strengthens bones.
Tip #6 Probiotics
Probiotics are live microorganisms that can be consumed through fermented foods or supplements. The balance or imbalance of bacteria in your digestive system is linked to overall health and disease. A huge benefit of probiotics is that they can strengthen the immune system which protects us.
Tip #7 Sleep & Stress
Getting enough sleep is important for good health. We need about 7.5 hours of quality sleep per night for optimum health.
Managing stress can improve your immune system. If you remain in a stressful state for a prolonged period of time, your health can be negatively affected (allowing disease to creep in)

Check out this Special from WatercureUSA. Drinking pure filtered water is paramount, all the time, but especially during this time of our health crisis!
Because of the closing of the Home Show Watercure USA has 3 each of their best water systems available to Robbie's patients at 50% off.

They include: Alkaline /Remineralized/Reverse Osmosis- removes everything from water including bacteria and viruses drinking water system.T his is what Robbie has. Whole House Filters Conditioner – Removes contamination from ALL of your water in your home not just one faucet or refrigerator.

Well Water iron-sulfur-Hardness Systems Individual filters or combinations to remove Iron hardness sulfur etc. Ultra Violet Lights Kills bacteria and viruses for whole house for well or municipal water.

Call Watercure USA at 716-946-3598 leave a message and we will get back to you and answer any question. Or go to www.watercureusa.com and fill out form and mention Robbie's name.
Stay well friends, we are praying for you!

Robbie and Ann Marie

Be strong and courageous. Do not be afraid or terrified because of them, for the Lord your God goes with you; he will never leave you nor forsake you.
—Deuteronomy 31:6