Hi Friends!
Fall season is here!    We have so many exciting things going on! Here's an overview and there's more details further down!

1) The new updated Raw Truth Recharge Book is now available! – I am offering a 1/2 off special for any Cancer survivors/thrivers during the month of October.
2) The first ever in this area Unstoppable Conference is this weekend, it's going to be two amazing day's of worship and hearing how God has transformed lives!
3)  Raw Truth Health we are offering a NEW  21 Day Healthy Keto Class as well as a Special Anti-Cancer Healthy Eating Class and Lunch!
Read on to learn more about our events.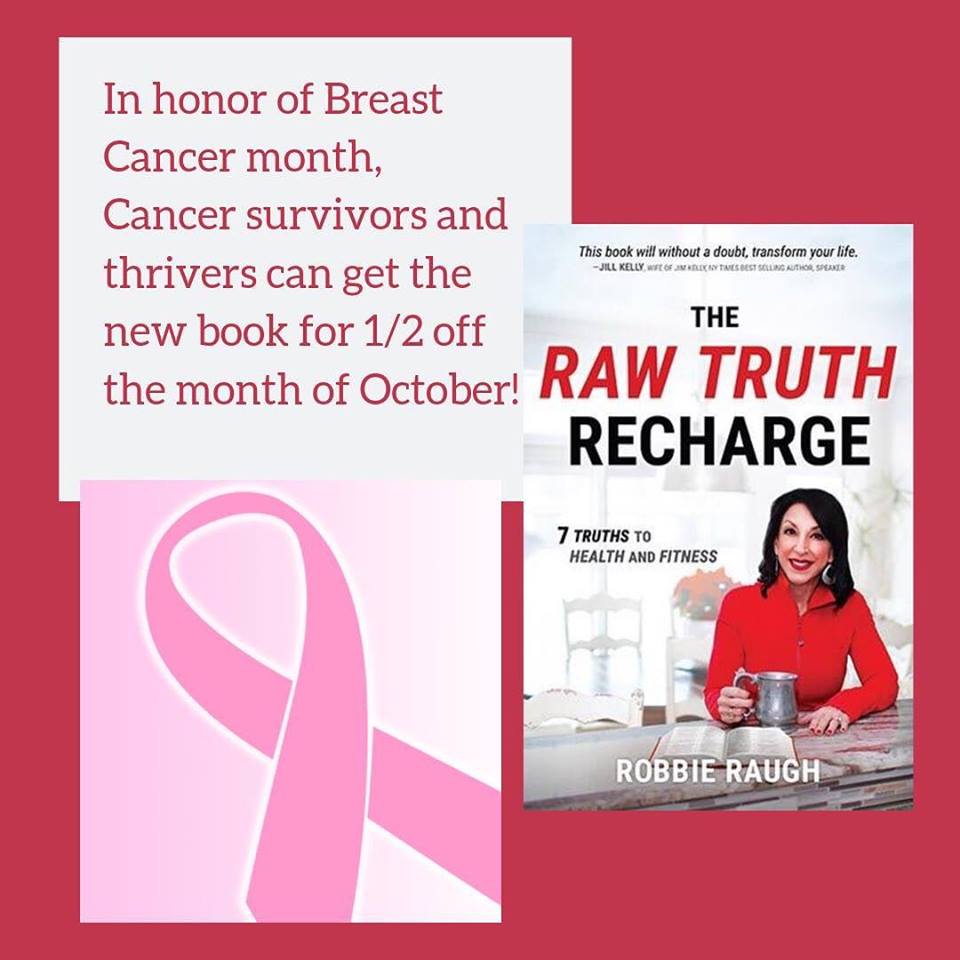 Raw Truth Recharge Book – 1/2 off for Cancer Survivors
Attention all Cancer Thrivers and Survivors –
Email Robbie@Robbieraugh.com to get your signed copy of The new Raw Truth Recharge Book for 1/2 off the cost for the month of October!   It's filled with the updated 7 Truths, recipes and researched based nutrition and health information to help you prevent and reverse disease!  This offer ends October 31st.  To receive this special books must be pick up from Robbie personally while supplies last so hurry!.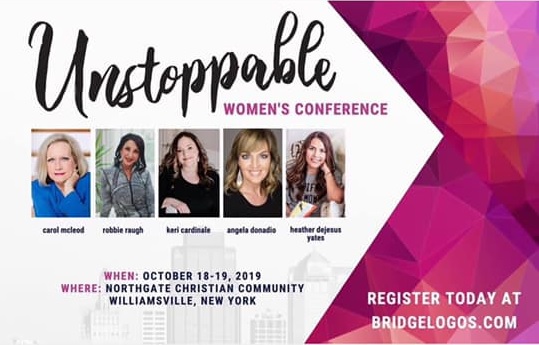 Unstoppable Womens Conference – Oct 18th & 19th
Incredible Worship.
Powerful Teaching.
Unstoppable Ministry.
You don't want to miss the first ever to this area – Unstoppable Women's Conference at Northgate Christian Community, Williamsville on Friday night October 18th and Saturday October 19th!
This will be an impactful event with several speakers including Robbie, Keri Cardinale, Carol McCleod and others. Tickets are still available and it is only $39.00 to attend.  Attend both days or just a portion and check out the vendors as well!  Get your tickets here. You do not want to miss this!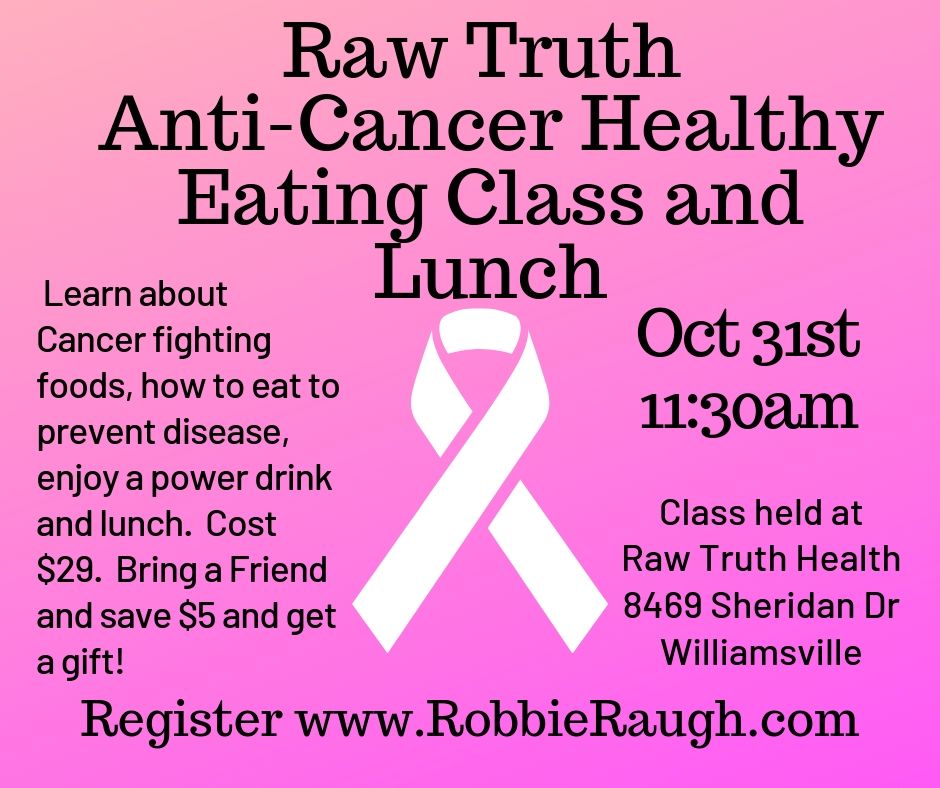 Reaw Truth Anti-Cancer Healthy Eating Class (includes a light healthy lunch) – Oct 31st
Learn about Cancer fighting foods, how to eat to prevent disease, enjoy a Power Drink and Lunch is included! Class held at the Raw Truth Health – The Fountain Wellness Center, 8469 Sheridan Drive, Williamsville, NY with Robbie and Ann Marie.  
Date of Class:  Thurs., Oct 31st  11:30am
Cost is $29.  Bring a friend and save $5 and get a free gift!   Please Register Anti-Cancer  Class Here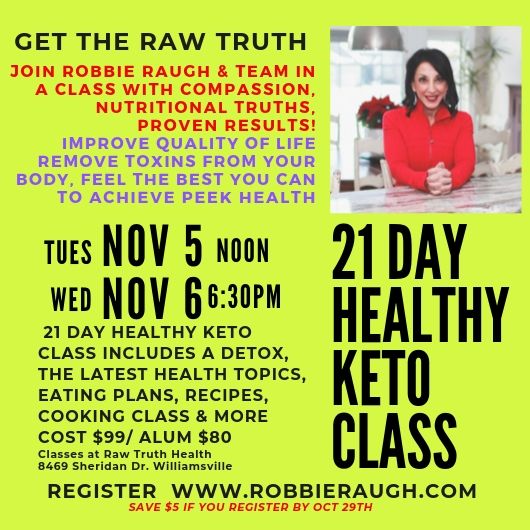 21 Day Healthy Keto Class – Nov 5th & 6th
In 21 Days you can increase your energy level, feel great, lose weight, get lean and learn healthy keto with our signature program.  Our 21 Day program will show you how!  Class includes:  a detox, the latest health topics, eating plan, recipes, food tastings, learning about the right fats & sugars, reading labels,  power greens,  sleep and stress and MORE!   
Class Dates:  Tues. Nov 5th – NOON or Wed Nov 6th – 6:30pm. 
21 Day Class Cost is $99.00    Past grads  (Alumni) $80.  SAVE $5 off Regular cost if you register before Oct 29th.  Classes are held at Raw Truth Health – The Fountain Wellness Center, 8469 Sheridan Drive, Williamsville, NY  with Robbie and Ann Marie.   They run about 1.5 hours max once per week
Anyone can do 21 Days! And it takes 21 days to make or break a habit!       Please Register the for 21 Day Healthy Keto Class Here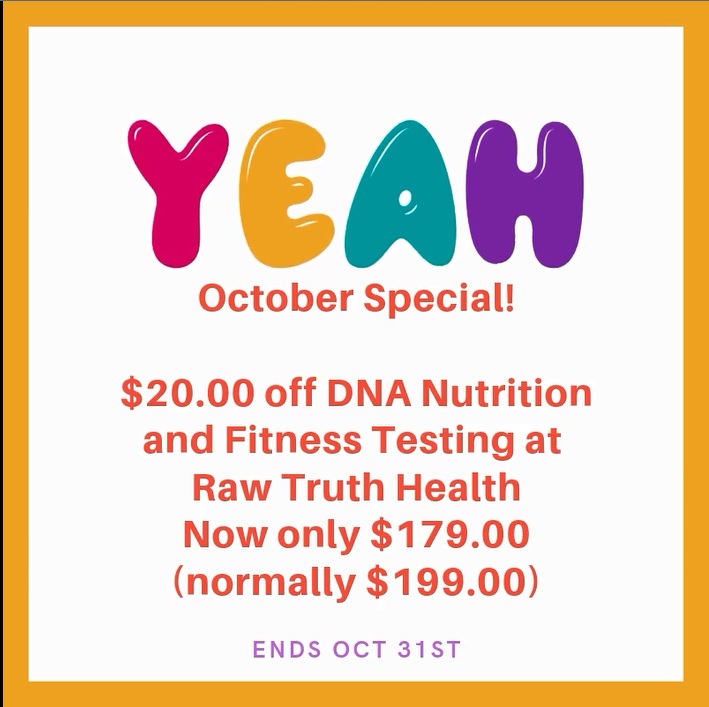 Delightful Sweet Potatoes
Organic Ingredients
4 large sweet potatoes
1 medium size butternut squash
½ cup apple cider
1 tsp. fresh grated nutmeg
½ tsp. cinnamon
The juice from ½ an orange
½ tsp. fresh orange zest
Directions
Preheat oven to 350 degrees. In a 9×13 pan with 3 inches of water, bake the squash and sweet potatoes (be sure to pierce holes in them) at 350 degrees for 1 ½ hours.
Allow to cool, then scoop the squash and sweet potatoes from the skins, and discard along with the seeds.
Put the sweet potatoes and squash in a large bowl and use an electric mixer to beat until smooth.
Add the apple cider, nutmeg, cinnamon, orange juice, and orange zest.
Combine and put into a baking dish, bake at 350 degrees for 15 minutes or until heated through.
Finally, I'd like to thank Faith and Fitness magazine for the awesome feature story written this month – How To Give Your Temporary Earth Suit A Kick!  Wow they really went back to the beginning of my health and fitness journey.  You can read it all right here!


We are so blessed to have you as our friends.  Hope to see you soon at the conference or at Raw Truth Health!We hope to see you soon!   
We hope to see you soon!   

May God protect and bless you –
Robbie
Phil 4:13