Dear Friends,
We hope this finds you well! We have been doing great and staying healthy during this time that so many are concerned about their health – we hope you are too!
We wanted to update you on some of our latest exciting news and information @rawtruthhealth
First of all, you know that we at Raw Truth Integrative Health are pioneers in the industry with 40 year's experience. We are armed with experience and credentials that span 4 decades. We also never stop learning!
I am so proud to announce the latest certification @rawtruthhealth – the Amen Method Brain Coaching Certification. I am vert excited about this and how I can help patients even more than we have the last 40 years.
I love brains, and that is why I knew we had to get officially certified in the Dr. Daniel Amen Method to address and support all of our patients in their journeys towards health. We are learning so much! It's our job as clinicians to help people be healthy and lose weight but also to help others with their mental health which affects their physical health.
I am learning more about neurobiology, neuroscience, brain degeration and taking dozens of courses with Dr. Amen the Founder of Amens Clinics, and one of the World's foremost experts on Brain Health! Dr. Amen was also one of my Professors in the past – he's simply amazing.
Optimal brain health is essential for living a long productive and healthy life.
We will be incorporating this material in our new Fall "Fit Over Forty" Classes so don't miss out!
Of course, we will still continue to help you with your gut microbiome and hormone reset along with everything else we've done to help you stay lean and healthy.
EXCITING CHANGES!
In the past 4 months Raw Truth Health has made some incredible changes for the better and we want to share them with you below.
NEW!! We recently moved out of the Fountain Wellness Center. We continue to work from our home office, Dr. Ortman Nabi's at All Care for Women, and will be going back to Catalyst when they open back up. We also have other location options on the horizon!
Consequently, over the past 4 months I have been seeing patients from my home office, teaching my zoom classes from home, recording my podcasts from home, recording AM Buffalo segments from home, taking care of Luigi and making meals for my family. As terrible as this shutdown has been, I found a silver lining!
FIT OVER FORTY 
This fall, we are excited to unveil our brand-new class called "Fit over Forty" which will incorporate the cutting edge information from the Amen Method Brain Coaching Certification, along with our Microbiome Gut Health and Hormone reset class all in one!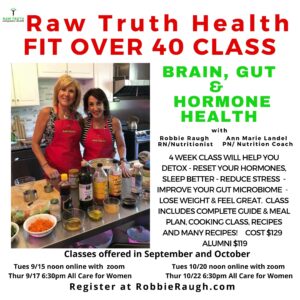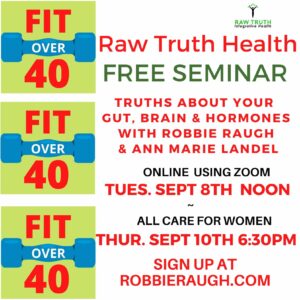 Real. Raw. Truth Podcast
In case you haven't heard, we have a NEW show and Podcast – Real. Raw. Truth with Robbie and Keri Spring available on Spotify, Google Play, iTunes or where-ever you get your podcasts. This show is in addition to The Raw Truth which is on WDCX Radio 99.5 FM on Saturdays at 11am.
Here is my latest AM Buffalo segment on working your abs!
NEW!!! Check out our new fall free seminars and classes called Fit Over Forty – which will focus on Brain Health, Gut Health, and Resetting Your Hormones!
Our day classes will be virtual, and our evening classes will be live – so that you can actually take our virtual classes right from your desk at work at lunch and not have to leave the office.
Zoom Zoom Zoom!
Our zoom fitness classes are into week 20 now, and we've continued to see our patients from coast to coast and Canada though our on-line mobile world class world-wide program.  Yes, we do see our Sports and Nutrition patients live, but no need really to inconvenience people to come in live since we can do almost everything virtually and have been all along.  
We welcome new people to class!   Simply Sign up Here!  
Summer Salad
Organic Ingredients
Organic spring mix and organic romaine hearts, cut in bite size pieces
Red bell pepper, diced
Broccoli, cut small
Clementines
Strawberries, sliced
Blueberries
Raspberries
Blackberries
Pecans
*Use as much as you need depending on how many servings you will need.
Directions
Toss ingredients in large bowl with strawberry poppy seed dressing
Strawberry Poppy seed Dressing
Organic Ingredients
2 Tbsp. red wine vinegar
½ tsp. sea salt
½ tsp. dry ground mustard
½ cup extra virgin olive oil or walnut oil
1 cup organic strawberries
1/4 tsp. poppyseeds
Directions
1. Blend first 4 ingredients in a blender.
2. Slowly add oil.
3. Stir in poppy seeds.
Change has been Good
My recent change is giving up my evening fitness classes since most of my clients are able to attend the day classes during lunch break.  This has allowed me to spend more time with my daughter Raquelle who is still home from Chicago.As I always say, if you haven't been "reset" by the last 4 months, I'm not sure what will really do it.  God has us here for a reason, and I am grateful I can spend more time with HIM alone.Enjoy your summer and stay healthy and fitSee you soon!
Blessings from Robbie & Ann MarieRobbieRaugh.com
Contact us anytime!